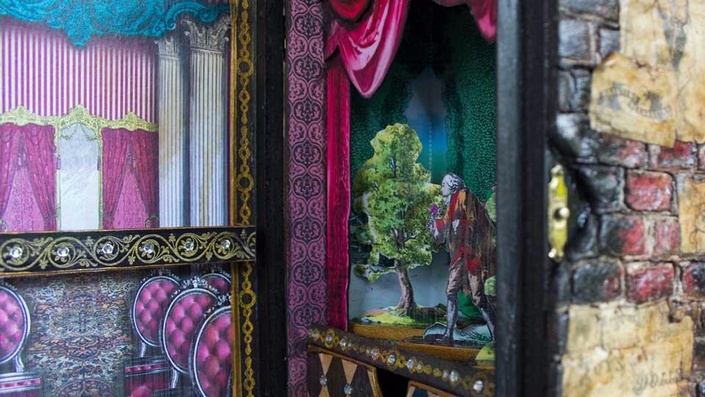 Mixed Media II - Extending Your Skills
Build on the basic concepts of mixed media design, and take your art to the next level!
I've been searching the last few months to find a project that would be a good follow up to my Mixed Media for Beginners Course…and I feel like I have succeeded! I'm so excited to present Mixed Media II – Extending Your Skills! I want my newest course to help you to build confidence in the studio and help you claim your identity as an Artist and Maker!

Join me in this journey as we learn new techniques and apply them to a gorgeous project! In this course, you'll learn...
construction techniques using chipboard, foam core board, cardboard, books, and wood
how to make 3D elements using paper
my favorite faux brickwork technique
binding techniques for journals
how to rethink elements around the house and create new surprises!
I'll be building a foundation of techniques and a Way of Seeing and Thinking that will enrich your work (and your life!) from now on! By the end of this course, you will have created an Artwork that will delight and amaze your senses! More importantly, you will have surprised and delighted yourself by discovering inner resources that will help you create with less angst & more joy!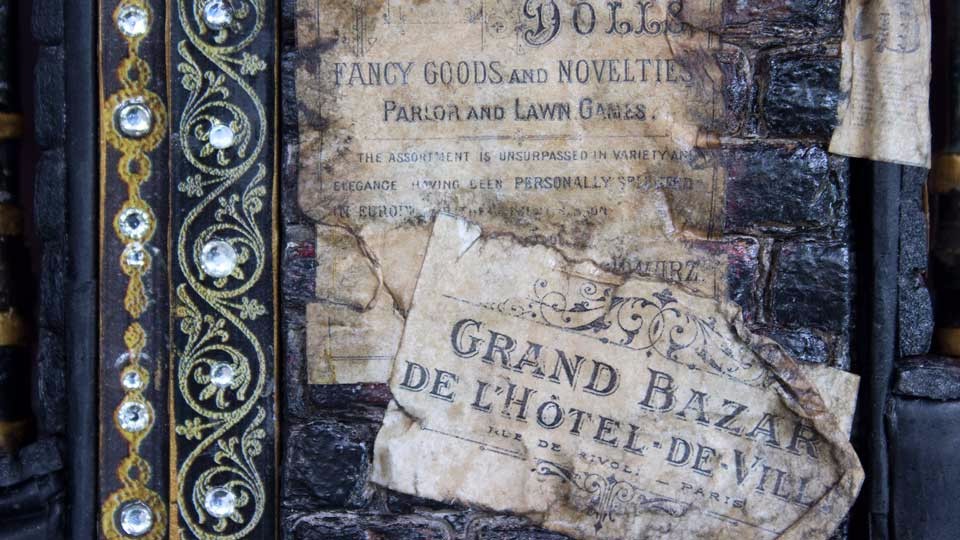 In Mixed Media II – Extending Your Skills, I'll be emphasizing creative use of common materials, rather than a reliance on name brand products. This is a very deliberate choice, and one that forces us to turn inward, to our own ingenuity. When we begin to examine our environments for the possibilities inherent in everyday objects and materials, we can glimpse greater possibilities in ourselves.
With a focus on using what you have, I've taken a found wooden box and I've transformed it in to an in interactive theater, decked out with details and decorative trims. This project is complete with hidden compartments, bejeweled accents, and interactive scenery to entice your senses.
As we work through the techniques and project, you will learn my favorite techniques for:
sanding and surface preparation
distressing
mixed media construction
faux painting and finishing
decoupage, gluing and adhesion
adornment and embellishment
Along the way, I'll also be sharing my Mixed Media Studio Secrets, including how to make a low/no cost distressing stain at home, and do-it-yourself sticky mats and sanding jigs.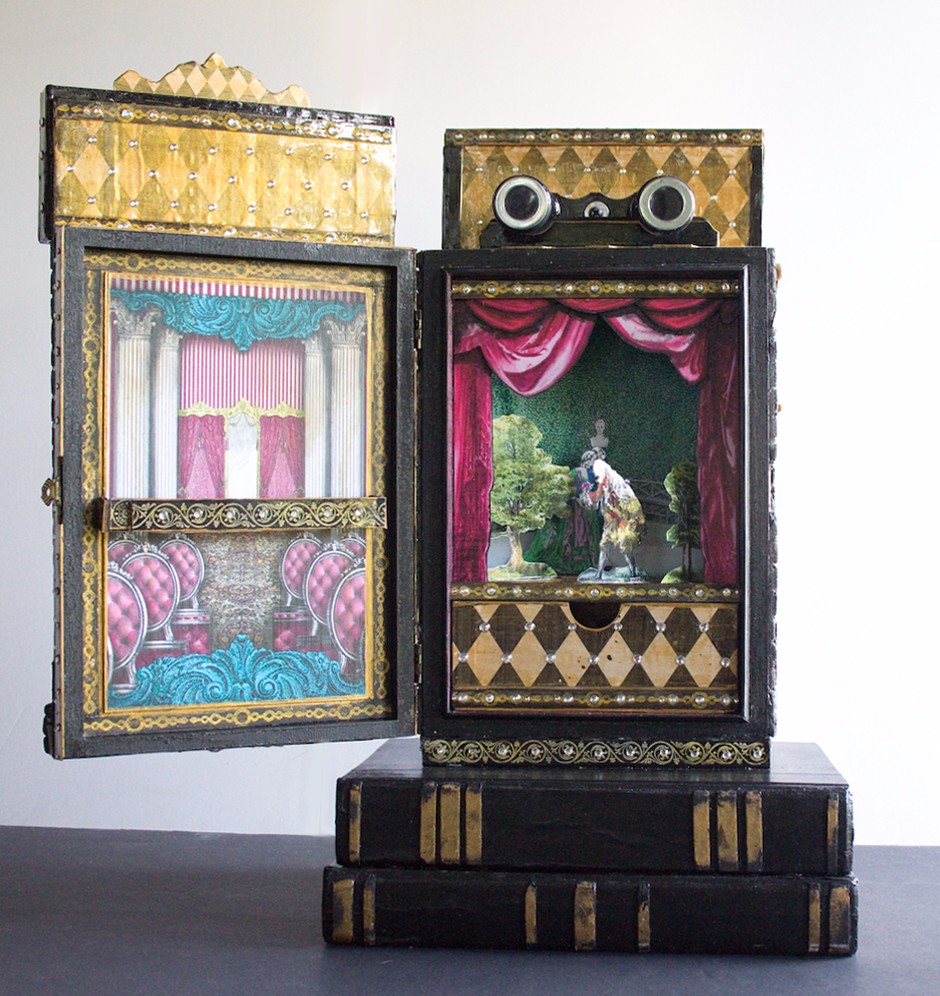 At the end of this course, my goal is two-fold: I want you 1) to have a tool box full of techniques and skills you can apply to any project, and 2) the imagination & self-confidence to seek out new projects and transform everyday items, like a wooden box, in to an entirely new world.
There has never been another YOU! Your vision is unique and important.

As we progress through the material together, I hope to help you see a larger version of YOU - a version that expands to embrace a greater level of confidence and creativity. Please join me for Mixed Media II – Extending Your Skills.
I double-dare you to emerge from this experience and NOT call yourself an Artist!
But don't take my word for it....hear what current Mixed Media II students have been saying...

"I wouldn't miss a chance to learn under the guidance of the master of mixed media… Heather Tracy. 17 hours tuition, what a complete and utter bargain! The skills you learn can be transferred to future works of art. I can personally recommend this course to anyone wanting to become a mixed media master in their own right." Marina M.
"This course is one of my top 3 online purchases of the year. As someone new to mixed media, I want it to be about the How To, and Heather delivers gorgeously." Heidi B.
"I've almost finished the videos and can say without reservation the course is worth the time and the money ten-fold. " Janet B.
"Wow! I'm right smack in the middle of watching Graphic Fairy eCouse-MM2. I don't think I have experienced a more thorough class. The video segments are beautifully recorded with exceptional quality." Kim W.
"I've purchased online classes from a variety of sources and they are definitely not created equal, nor equally creative. I take eCourses to make my coursework money go further and to learn techniques, but some teachers are so casual, even sloppy or inept (no editing, hands out of frame, spending too much time on something tedious and glossing over others with not enough info given out). The Graphics Fairy classes I've taken so far (taught by Heather Tracy) are high quality classes. Heather is a generous teacher, has great ideas and breaks down each technique into easy to understand steps. The courses are stuffed with content, tips, alternative materials and sources and there is a FB support group so the camaraderie of an actual class is available if you want it. I am impressed! Mixed media is not my primary medium but I'm still l learning things that will transfer to my other work!" Lynette F.
"This is the second course I've signed up for with Heather Tracy and I would not have missed this for the world. Each step of the project is carefully thought out and clearly explained. Heather is both a generous and genius artist and person. I have learned so many new techniques from her that I use over and over again in my own art. With all the thought and detail she puts into her classes, she could easily charge more. I've taken classes with other artists, but hers are far and away my favorites and I recommend them to everyone no matter their skill level." Candi H.
"Not only is this course spectacularly creative, but so informative. Loving the in depth video tutorials on supplies and procedures. As I am a big picture gal, I always watch all videos before I start a project. At about one third of the way through the videos, I'm sorely tempted to break my rule and jump in. So very thankful Heather Tracy has shared her artistic talents with us. And as always, Graphics Fairy delivers quality." Donna M.
Your Instructor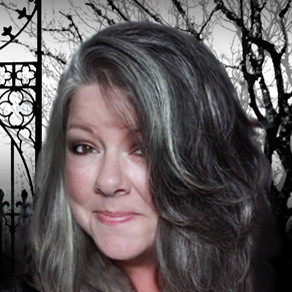 Heather K Tracy is a Creative with one foot in the DIY / Home Decor World, and one foot firmly embedded in Mixed Media Art. During her tenure as an Ambassador for Heirloom Traditions Paints, she demonstrated many different specialty furniture finishes and techniques. During her role as Design Team Member for both Relics & Artifacts and Iron Orchid Designs, she drew on her love of Mixed Media to showcase these popular products. Today, her focus is on helping others to express their Creativity through creating Online Courses.
Course Curriculum
01 - Overview & Welcome
Available in days
days after you enroll
02 - DIY Tools and Materials
Available in days
days after you enroll
03 - The Building Blocks - Basic Components, Tools & Boxes Module
Available in days
days after you enroll
Frequently Asked Questions
When does the course start and finish?
The course starts now and never ends! It is a completely self-paced online course - you decide when you start and when you finish.
How long do I have access to the course?
After enrolling, you have unlimited access to this course! Just hold to your login and you can access it for as long as this website is active!
How long is this course?
Mixed Media II - Extending Your Skills has more than 17 hours of content, broken up in to manageable lessons. You can start, stop, skip and go back through the material by clicking on the interactive course outline.
Where can I see what's in the course?
If you scroll upwards on this page, you can view the course's Class Curriculum which is the course outline with all of the lessons. Please note that each lesson may contain multiple videos about the subject matter & will include any relevant printables.
I don't have a lot of time, can the course be taken gradually over time?
Yes, you can take the course at your own pace and rewatch the videos whenever you want to. Just log in to courses.thegraphicsfairy.com whenever you have free time and click on the course title. You may keep track of lessons viewed by marking them "complete" in the course outline.
I'm fairly new to Mixed Media. Will I need to buy a lot of new supplies?
This course focuses on using what you likely already have (e.g., cutting blade, ruler, tacky glue), what you can find around the house (e.g., old cereal boxes, old books) and we've tried to limit the number of new supplies (e.g., magnets, rhinestone embellishments). There are also 50+ printables included that you can print and use right away in your projects.
What if I can't find the same box you use?
Part of the artistic process is using what you have, so I would encourage you to make your project a unique expression. My supplies list includes a similarly sized box that you can purchase. I've also included a method to resize printables if needed, and a method to "shapeshift" your box if you need help making things fit.